Gamestar Mechanic
Published by E-Line Media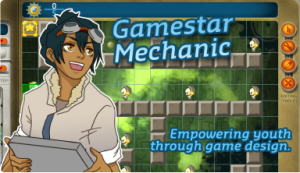 Gamestar Mechanic is an award-winning game and community where you can make and share your own video games. Go on epic quests and earn powerful sprites. Use the tools you earn to design your very own games. Play tens of thousands of games created by users like you. Share your games with your friends. Level up from player to designer!
The game and the accompanying Learning Guide are designed to foster critical 21st century skills such as systems thinking, problem solving, creativity, collaboration, digital media literacies and a motivation for STEM (Science, Technology, Engineering and Math) learning.
Gamestar Mechanic is supported through a partnership between the Institute of Play and E-Line Media. Initial funding for the game and companion learning guides came from the John D. and Catherine T. MacArthur Foundation.
Check out the Gamestar Mechanic site.
Visit the Teachers section.
Video Introduction
Gamestar Mechanic Learning Guide
Created by the Institute of Play
The Gamestar Mechanic Learning Guide is a curriculum resource for educators, librarians, and parents who wish to use Gamestar Mechanic in formal or informal learning settings. It provides rich game design content, as well as a set of sample lessons and resources that can be used in conjunction with the Gamestar program. The Learning Guide contains 50+ lessons to scaffold students in developing their game design skills.
View the Gamestar Mechanic Learning Guide.