Why Games?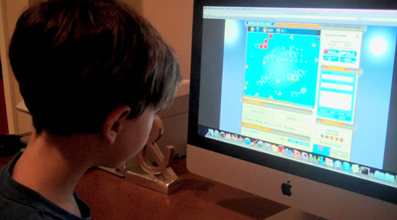 Game design is promising area of innovation in STEM learning [1]. Research suggests that empowering youth to create their own video games promotes learner independence [2] [3] [4]. Moreover, it encourages youth to take ownership over STEM knowledge, rather than viewing it as belonging to others [5], thereby ushering them into STEM communities of practice [6].
A growing body of research suggests that creating video games can be a highly engaging way for children to learn a range of STEM skills [7] [8] [9]. Many studies have explored children learning engineering and technology skills using youth programming environments such as Alice, Scratch, and Kodu [10]. Results suggest that these programming environments can teach children computational thinking [11] [12] [13] and computer programming [14] [15] [16] [17] [18] [19]. While more research is needed on children learning math and science skills through game design, existing research suggests that it is a promising pedagogical technique. Several studies suggest that it is possible for children to learn both scientific concepts[20] [21] and scientific thinking [22] [23] from making video games. In addition, game design has been shown to teach children math skills ranging from fractions [24] [25] to variables [26] to graphing [27].
Creating video games seems to support several higher-order skills that cut across STEM learning as well. Making video games with programs such as Scratch can also help students learn to think creatively [28] and artistically [29], as well as reason systematically [30] and problem-solve [31]. Research also suggests that making video games can be a powerful tool for helping children learn to collaborate effectively [32] [33] [34]. When children work together on making a video game, they have to work out how to build on one another's ideas, resolve conflicting opinions, make the best use of each team member's skill set, and so forth.
Game design shows promise as an innovative way to teach STEM skills to children in groups that are underrepresented in STEM fields, including girls, minorities, and children from underserved backgrounds. Research suggests that game design is particularly effective at teaching STEM skills to children from underrepresented groups when children are mentored and the game design experience is tailored to their interests [35] [36] [37] [38]. Involving underrepresented groups in making games gives them a pathway into participation in the game design industry [39], which can help change an industry in which minorities and women are rarely cast as main characters and often depicted in negative stereotypes.
Looking across the current available research, game design has emerged as a promising area of innovation in making STEM and other educational topics more engaging for America's youth. The STEM Video Game Challenge hopes to motivate STEM learning by leveraging students' natural excitement to play and make video games.
References